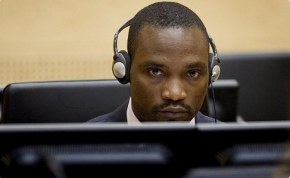 Photo: Radio Okapi
Germain Katanga, leader du FRPI, à la CPI
The International Criminal Court (ICC) today convicted former Congolese militia leader Germain Katanga of war crimes committed during a deadly 2003 attack on a village in eastern Democratic Republic of the Congo (DRC).
Hundreds of people were killed and many women were forced into sexual slavery as a result of the February 2003 attack on the village of Bogoro in Ituri district.
The Trial Chamber of the ICC found Mr. Katanga, a senior commander from the group known as the Force de Résistance Patriotique en Ituri (FRPI), guilty on four counts of war crimes and one count of crimes against humanity in relation to the attack, namely murder, attacking a civilian population, destruction of property and pillaging.
"In light of the witness testimonies and the evidence presented before the Chamber, it had been established beyond reasonable doubt that Germain Katanga had made a significant contribution to the commission of the crimes by the Ngiti militia, which was acting with a common purpose, by assisting its members to plan the operation against Bogoro," the Court stated in a news release.
At the same time, the Trial Chamber acquitted Mr. Katanga of the other charges that he was facing. In this regard, the Chamber found that there was evidence beyond reasonable doubt that the crimes of rape and sexual slavery were committed, and that there were children within the Ngiti militia and among the combatants who were in Bogoro on the day of the attack.
"However, the Chamber concluded that the evidence presented in support of the accused's guilt did not satisfy it beyond reasonable doubt of the accused's responsibility for these crimes."
Decisions on sentencing and victim reparations will be rendered later. The Prosecutor and the Defence may appeal the judgment within 30 days. Located in The Hague, in the Netherlands, the ICC is an independent, permanent court that tries persons accused of the most serious crimes of international concern – namely genocide, crimes against humanity and war crimes.